HD-SDI compact switcher
Simple operation and High performance
It takes advantage of the merit as an analog switcher at maximum. There is no delay by adoption of Genlock system.
Simple switching of 2 types (Overlap and Direct cut) needed in filming sites.
Conventional 2Cam switcher function. High resolution switching is possible.
One camera is fixed, the other is controlled by myself.
It is possible to produce switching video image by oneself when the video must be made on a small budget or there are not enough cameramans.
It can be set transition time from direct cut.
Switching without artifacting.
12V DC Operation.
It is suitable for video filming outdoors like concerts or events and the like.
Remote switching is possible with separatery sold remote controller.
It can switch in hand attaching to Pan bar with separately sold pen-shaped switch AR-50.
Moreover, it can operate like stationary type switcher by using VSE-RM200HD.
*AUTO TAKE switch in main body side and its flame number setting are unavailable when using VSE-RM200HD to avoid misoperation.
Compact body, 2 inputs, Input channnel through-out.
HD-SDI input x 2.
It can be connected to 2 cameras or VTR.
Distributer for monitor is unnecessary because the input signal can through-out.
Accordingly the cable wiring is simple. The wiring around the switcher has drastically reduced.
Minimizing operation, equipment, and the cable have enabled setting in a short time.
RED Tally installing
RED tally out is equipped.
It can be displayed on the outside.
Moreover, it can avoid switching mistakes by knowing the own camera from the other by attaching Tally unit (separately sold).
Cable equalizer circuit
Input channel has signal correcting function (equalizer).
It correct weaken signal to fine waveform.
Confortable video filming with separatery sold viewfinder
PROTECH viewfinder is attachable as an option.
HDF-EL800 in particular can remain displaying video images of the 2 cameras by PinP function.
Fast-moving subject can be filmed confortably with O-LED panel.
Easy operating with monitor on the side of the viewfinder or Tally in video filming.
This switcher is easy to operate.
It can film with the sense of para- when operating own camera with the other being fixed in the center.
Switching operation with zoom remote controller is possible.
Editing is so easy because it can switch at the filming site.
VSE-200HD can switch at the filming site and make movie being switched easily.
It can edit in short time because it replaces video images by editing when switching miss occurs.
Specifications
■Inputs
■Outputs
REC・PGM: BNC x 4(HD-SDI)
Input monitor: BNC x 2(HD-SDI)
■Others
TALLY output: BNC x 2
Auto take: 8-pin x 1
Remote: 12-pin x1
■General
Weight: Approx. 830 g
Dimensions(W x H x D): 70 x 169 x 101 mm
Power Requirement: 12 V DC(V mount/XLR 4-pin)
power consumption: Approx. 5 W MAX.
Appearance
■Front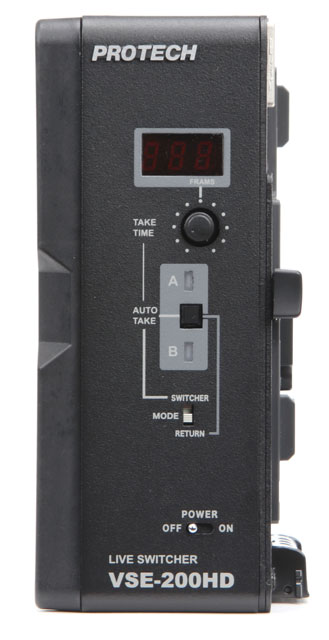 ■Back