The best selling shoulder mount rig for professinal handy-type camcorders.
The ST-7(J) are shoulder mount rigs for most professional handheld cameras.
They quickly increase the versatilty of handheld cameras and provide a lightweight rig for essential camera stability and the comfort of a shoulder mount camera.
The ST-7 is the dedicated rig for Sony PMW-EX3 camcorder and the ST-7J is compatible with most popular professional video cameras from Sony, Panasonic, Canon, and JVC.
V-Mount Battery Terminal – A V-mount battery attachment further expands your power options and allows a number of 3rd-party camera accessories to mount directly to the back-end of the rig.
A 12VDC output (4-pin XLR-Female & D-Tap) is available to supply power to camera accessories and lights.
Combining Comfort & Simplicity – An integrated rubberized shoulder pad molds to any shoulder without slipping and maintains excellent balance and alleviates pain from the painful pressure points that are common in harder shoulder pads.
Quick Release Benefits – The ST-7J/-7 are supplied with a mating plate for a quick release tripod plate, allowing it to attach directly to popular quick-release tripod adapters (compatible for Sony VCT-14).
Specifications
ST-7
■Input/Output
DC IN: 12 V DC XLR 4-pin(Male) x 1, V-shoe mount(Li-ion Battery Input) x 1
DC OUT: 12 V DC XLR 4-pin(Female) x 1, DC 12/8.4 V Mini 4-pin (Female) x 1
■General
Extension terminal: BNC-BNC x 3
1/4 in. camera screw: x 1 with rotation prevention x 1
1/4 in. camera screw: x 1 Spare
Operating temperature: 0°C to 40°C
Storage temperature: -20°C to 60°C
Outside dimensions: 120 x 170 x 449 mm(W x H x D)
Weight: Approx. 1.5 kg
ST-7J
■Input/Output
DC IN: 12 V DC XLR 4-pin(Male) x 1, V-shoe mount(Li-ion Battery Input) x 1
DC OUT: 12 V DC XLR 4-pin(Female) x 1, 12/8.4 V DC Mini 4-pin(Female) x 1
■General
Extension terminal: BNC-BNC x 3
1/4 in. camera screw: x 1 with rotation prevention x 1
1/4 in. camera screw: x 1 Spare
Operating temperature: 0°C to 40°C
Storage temperature: -20°C to 60°C
Outside dimensions: 153 x 240 x 449 mm(W x H x D)
Weight: Approx. 1.5 kg
Apperance
ST-7
ST-7J series
Installation example
Canon XF305(ST-7JC)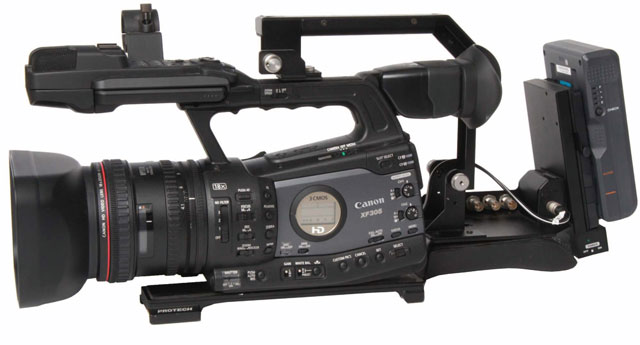 JVC Kenwood GY-HM650(ST-7JV)
Panasonic AG-AC160A(ST-7JP)
SONY PXW-X200(ST-7JS)