PROTECH professional camera remote controller
Remote controller useful for all filming situations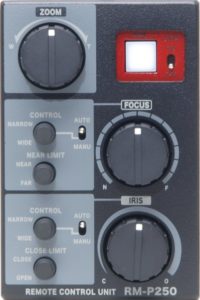 RM-P250 is highly convenient remote controller which have zoom, iris and focus controls being connected to Panasonic professional camcorder.
It is possible to select auto/manual function. It enables to select item requiring manual adjustment and use.
Designating the adjusment range is possible
Focus and iris control can set range and lower limit of adjustment range.
Thereby, it is made possible to prevent excessive adjustment by failure and to film safety.
Easy operation without troublesome setting
Multifunctional remote controller without troublesome setting is usable for anybody.
For the details of each function, please refer to the manual.
Specifications
■Input/Output/Features
Supported camera: Panasonic camera (except some models)
ZOOM Connector: 3.5 dia. 4P Mini-mini Jack : For connection to Panasonic camera.
FOCUS IRIS Connector: 2.5 dia. 4P Mini-mini Jack : For connection to Panasonic camera.
ZOOM knob W/T: WIDE(Left) – TELE(Right)
FOCUS knob N/F: Focus automatic / manual switching push switch. (NEAR(Left) – FAR(Right))
CONTROL knob for FOCUS: Focus adjustable range width variable. (NARROW – WIDE)
NEAR LIMIT knob for FOCUS: Movement of focus adjustment range. (NEAR – FAR)
IRIS knob C/O: CLOSE / OPEN Adjust the IRIS.
CONTROL knob for IRIS: Iris adjustment range width variable. (NARROW – WIDE)
NEAR LIMIT knob for IRIS: Movement of iris adjustment range. (CLOSE-OPEN)
REC Switch: Push Switch: REC ON (Start) / OFF (Stop)
LOCK ON/OFF Switch: Toggle Switch : LOCK ON (REC) / OFF (Stop)
■General
Mounting bracket: Attach to the pun bar with Mounting bracket.
Dimensions(W x H x D): approx. 80 x 120 x 44 mm (main body)
Mass: approx. 0.28 kg (main body)
Operating Temperature: 0°C to 40°C
Storage Temperature: -20°C to 60°C
Apperance
■Front