The real Professional Prompter
Vision Proof Glass" with the ultra low distortion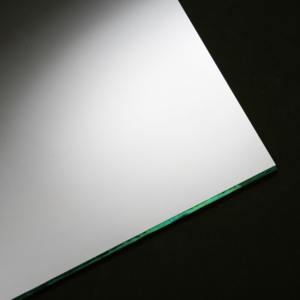 HDP series prompter have high quality half mirror which was made of "Vision Proof Glass".
"Vision Proof Glass" is specially ordered to make the real professional prompter and it has significant low distortion characteristic which is very important to be used with HD or 4K camera.
Fit to a variety of cameras & camcorders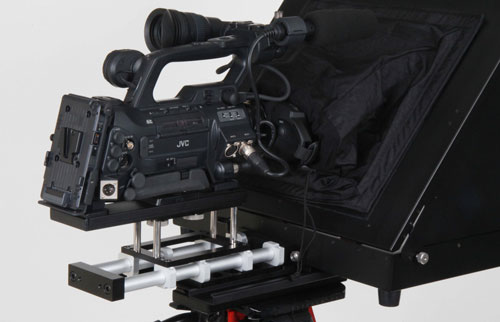 From the top end studio camera to handy type camcorders, HDP series prompter can be fit to a variety of cameras and camcorders.
The supplied slide rail has the ability to adjust the balance position widely so that the stress of the tripod can be minimized.
Multi signal inputs

HDP series prompters can accept many types of input sources which include HD-SDI, HDMI, analogue composite video and PC VGA signals.
(Option) Large Clock and Program Monitor
As the real professional studio monitor, HDP-2000ST can optionally equip the large clock display and 18-inch program monitor.
These are considered as mandatory feature as the studio prompter.
Specifications
■Inputs
HD-SDI IN: BNC x1
VBS IN: BNC x1 (Composite)
HDMI: HDMI x1
PC IN: D-Sub15P x1
■Outputs
■Functions
TALLY Indicator: LED x1 (Red Tally) (Front panel), LED x2 (Green Tally/Red Tally) (Operation panel)
TALLY IN: BNC x1 (Input signal : 0 V=OFF/2 to 4 V=Green/4 to 5 V=Red)
PB IN Switch: x1 (Operation Panel) For setting the mode of the LCD display
DC IN: XLR 4P male x1
■Power
DC Power Input: DC 11V to 17V, approx. 3.5A
Power Consumption: approx. 43W
■General
Operation Temperature: 0°C to 40°C
Storage Temperature: -10°C to 50°C
Weight: 9.5Kg (Body only), 2Kg (slide unit)
Dimension (WxHxDmm): 670 x440 x370 (body), 140 x105 x428 (slide unit)
Appearance
HDP-2000ST
■Body/pedestal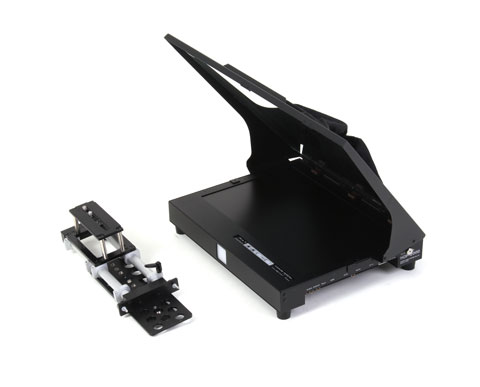 ■Connection example