The real Professional Viewfinder & Field monitor with the high brightness panel.
The HDF-500 is the most advanced featured Viewfinder with high brightness 5-inch LCD panel.
In case of outside production, this amazing brightness is very remarkable features in mobile and robust body, which can help the production crews to check the quality of valuable pictures with its perfect eyesight on this bright LCD screen.
Clear Peaking function
Because Peaking function is the one of the most important feature as the professional viewfinder, NIPROS/PROTECH HDF series have very advanced characteristics.
The level of peaking can be easily adjusted by the knob on the front panel, and the high-light portion of peaking pictures look very similar to the top end viewfinders of the most advanced live production camera.
Peaking OFF
Peaking ON
Advanced Zebra function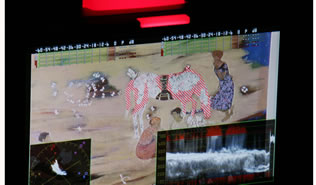 The Zebra function is also very useful function to adjust the manual iris level of a professional camera.
The zebra area of HDF-HR500 & HDF-500 can be adjusted both for upper limit and lower limit of both luminance and chrominance signals.
Return video display function with P-in-P function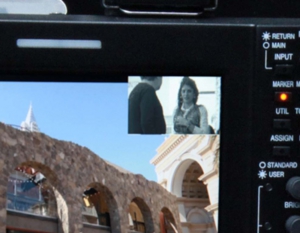 In case of multi camera shooting, the return video signal is so important for each camera operator to see the program video or the picture of the partner camera.
The main video and the return video can be switched to show on the LCD display from the zoom demand controller inside of HDF viewfinder.
Or the resized return video picture can be overlapped onto the main video pictures as the P-in-P function.
Direct function keys
Some of other viewfinders have "function keys" on the front panel, which can be configured with variety of functions.
However, it wouldn't good feature for many camera operators as it is impossible to see what will happen when the function button is pushed.
Having this feedback from customers, HDF series have the direct function keys with the clear silk print so that camera operators can use any function very easily.
Vector scope & Waveform scope Function

These measurement functions are so convenient, especially when it is used as the field monitor for high-end production.
All of necessary picture parameters can be adjusted while seeing these displays.
Level Meter & Monitoring Function for all channels of SDI Embedded Audio
HDF-HR500 and HDF-500 can read the embedded audio data from SDI signal and overlay display its level meter onto the camera pictures.
And also selected channel of embedded audio can be monitored by the stereo headphone.
TC Tally Function
This function is useful for cinema or drama production as the REC tally of the camera can be showed on the tally lamp of all HDF monitors which are connected with the camera just with a SDI BNC cable.
Specifications
■Display
LCD Panel: TFT-LCD(Wide Angle Type)
Size: 5-inch diagonal
Resolution: 800(H) x 480(V)
Contrast Ratio: 900: 1(Typ)
Viewing Angle: 170°(H) x 170°(V)
Brightness: 700 cd/m2(Typ)
■Input/Output
SDI (3G/HD/SD)Input: 2 x BNC
SDI (HD/SD) Output: 1 x BNC: Loop Through
Analog Input: 1 x D-Sub :Component(YPbPr), RGB(SoG), 1 x BNC: Composite CVBS
HDMI Input: 1 x HDMI
Tally Input: 1 x BNC, User selectable type: Voltage or ON/OFF
RET Control Input/Output: 2 x 8-pin(Input/Output)
Audio Output 1x 6.3 dia. Stereo Jack(Headphone)
Tally Indicator: Built-in Tally Indicator
Speaker: Built-in Mono Speaker
■General
Power requirement: 12 V DC(10-16V), 4pin XLR / CAMERA I/F / Battery V-Mount
Power consumption: Approx. 15 W
Weight: Approx. 0.94 kg
Dimensions(W x H x D): Approx. 180 x 117 x 69.9 mm(Main body)
Operating Temperature: 0°C to 40°C (20°C to 30°C recommended)
Operating Humidity: 30% to 85%
Storage Temperature: -20°C to 60°C
Storage Humidity: 0% to 90%
Field Update: 1 x Mini-USB
White Balance: 1 x D-SUB9, RS-232
■Video Format
1080p/60/59.94/50/30/29.97/25/24/23.98 (SDI/HDMI)
1080i/60/59.94/50 (SDI/Component/HDMI)
720p/60/59.94/50/30/29.97/25/24/23.98 (SDI/Component/HDMI)
480i/60/59.94, 575i/50 (SDI/Component/HDMI/Composite)
480p/60/59.94, 576p/50 (Component/HDMI)
Apperance
■Front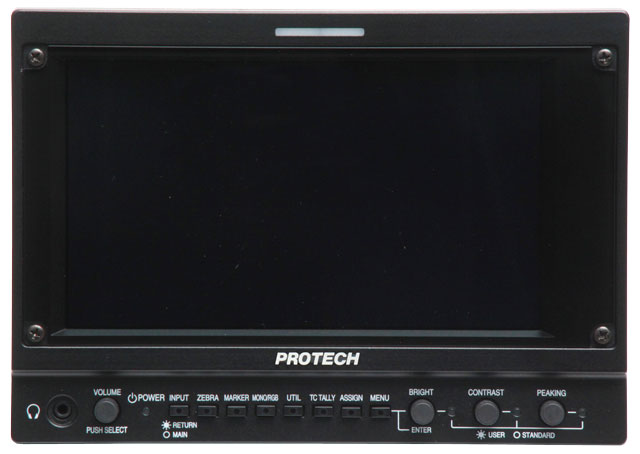 ■Back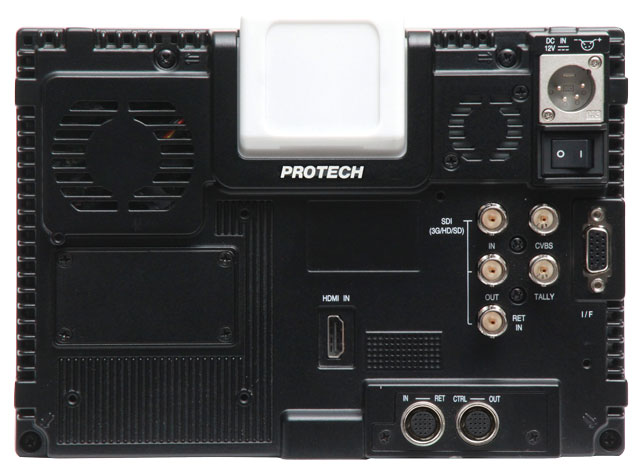 ■Example of use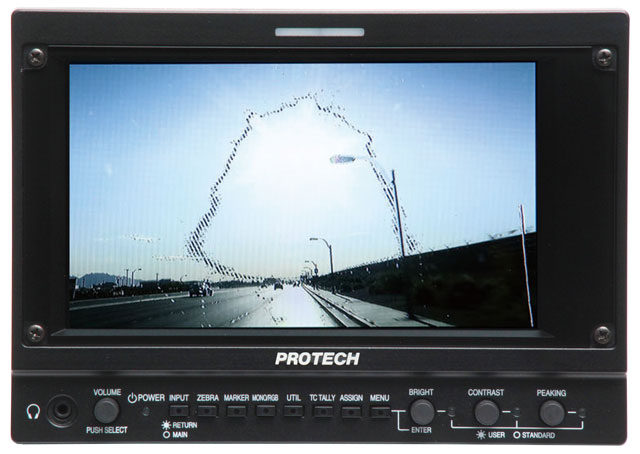 Note. Features, design and specifications are subject to change without notice.