Confortable operating with advanced cable
Newly developed 26-pin multi-cable has enabled to transmit 2 x HD-SDI transmission in addition to 26-pin.
It realizes confortable cable operating with a dedicated cable to lead the cable around with only one cable.
HD-SDI Return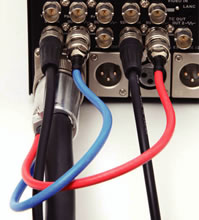 It supports HD-Y return and HD-SDI return.
Base station ES-600 has a cable equalizer circuit of HD-SDI signal.
Professional system will be constructed with separately sold 7inch viewfinder HDF-700.
Cable equalizer
The base station has 2 cable equalizer of HD-SDI signal.
Built-in 2W intercom
It can connect to 2W intercom for broadcast directly which is used in fields.
Connectig with Canon 3P terminal. (PROTECH intercom FD-300A requires interface separately.)
Capable of power supply
ES-300/500 can power supply in combination with ES-600. ES-500 can power supply camlight or prompter from DC12V camera power source and CAMTAP of the camera body. (Only when tha cemera has a CAMTAP output (light terminal)) ES-300 can power supply DC8.4V, camlight or prompter.
Always attachable camera adapter ES-500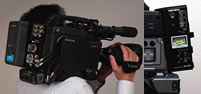 Cables can be routed cleanly. It can be used as an EMG camcorder immediately when being detached multi connecter cable and attached battery to the back of the camera adapter ES-500.
Remote controllable
The remote control of target camcorder becomes possible with the remote controllers like Sony RM-B150/B170/B750, and Panasonic AG-EC4G.
Viewfinder interface unit
Tally and return video images can be confirmed with Viewfinder interface unit VIF-100/100P and the like. It can be confirmed in viewfinder of the camcorder when using VF interface unit.
Support analog HD components

It supports multi camera video filming with analog HD components.
Hyper limiter built-in phantom power supply microphone, LINE input
Hyper limiter produced in PROTECH audio branch is built-in the camera adapter ES-500, and it transmit sound source from camcorder to center station ES-600 preventing clipping noise caused by sudden excessive input.
Specifications
For specifications, refer to the specification sheet.

■ES-300
Specifications:PDF 809KB
Instruction manual:PDF 約1.4MB
■ES-500
Specifications:PDF 約1.1MB
Instruction manual:PDF 1.4MB
■ES-600
Specifications:PDF 約1.1MB
Instruction manual:PDF 1.4MB
Instruction manual:PDF 1.4MB
Apperance
ES-300
■Front
■Side

■Back

ES-500
■Front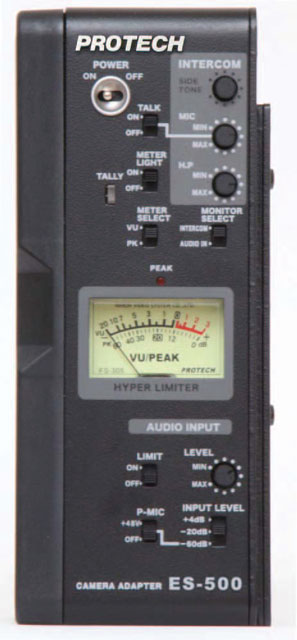 ■Back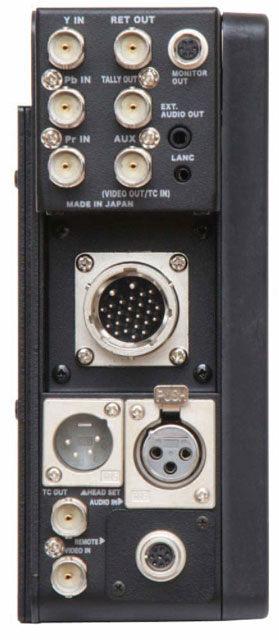 ES-600
■Front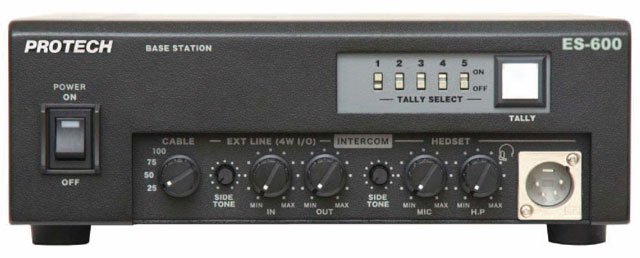 ■Back