Easy connection with BNC cable enables multi conversation.
Easy connection with BNC cable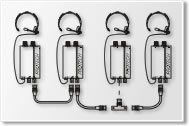 With 2 or more FD-300A and BNC cable, it can start multi conversation immediately without requiring base unit.
It can be connected with at most 10 intercoms and to at most 2km.
In addition, you have no need to prepare new headset because it is an equipment supplied.
Compact, lightweight, strong, and longtime operation
Strong metal body realized lightweight of about 220g.
In addition, it realized continuous operation of about 50 hours with a square shaped (006P/9V) alkaline battery.
Clear sound quality
It can sequre sound quality to minimize the external noise by low impedance-coupling.
In addition, it can control the volume meeting in various fields by adjusting each volume of headphone and microphone.
Specifications
■Input/Output
type: Wired-type, BNC cable connection
Line Impedance: 22 ohm
Communication distance: 2 km
Adjust ability: Headphone volume level, Microphone level
Input/Output Connector: LINE 2 x BNC / HEADSET 1x 3.5mm Mini-jack / Remote 1 x Mini 4-pin
■Power Supply
Power Supply: (internal) 9 V DC 006 x 1 batteries/(external) 8 to 18 V DC
Power Consumption: Approx. 0.09 W
■General
Operating Temperature: 0 °C to 40 °C
Storage Temperature: -20 °C to 60 °C
Dimensions: Approx. 63 x 37 x 131 mm(WxHxD)
Weight: Approx. 260 g(main body only)
Apperance
■Front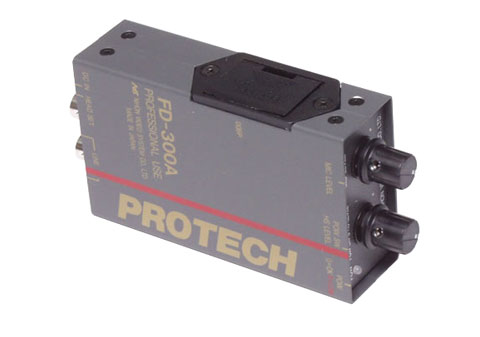 ■Back