Safety! Easy! Robust! The most popular wired professional intercom in Japan
Model type
FD-400A

: Portable unit with a single-ear, "closed type" headset.

FD-400A/S

: Portable unit with a single-ear, "open type" headset.

FD-400A/D

: Portable unit with a double-ears, "closed type" headset.

FD-400A/N

: Portable unit without supplied headset.
"Wired" isn't worse than "Wireless" always, which depends on the location and applications.
"Wired" has many benefits as no interference is happened and no frequency allocation work is required.
Therefore, this FD-400A (and previous model FD-300A) are so popular in Japan for several type event & filming operations.
Actually, it is very easy to use FD-400A without any difficulty. More than 2 units (up to ten) of FD-400A can be simply connected with normal BNC cable even without the base station, so that all operators can talk at the same time with each FD-400A. FD-400A can be operated with normal AA batteries for more than 200 hours so that operators don't need to worry about the power supply even for 2 weeks long event.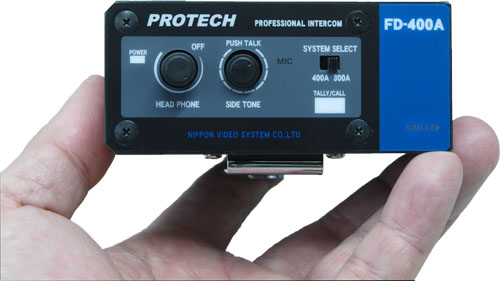 The body of FD-400A is very compact and robust, and FD-400A has the Tally/Call LED and Tally signal output features, which can work with FD-900S base-station, so that FD-400A and FD-900S system is useful for the multi camera operation.
The BNC connection way is very flexible, either of cascade connection or star type connection, or even mix style of these can be possible. The total length of BNC cable can be up to 2km so that most of application can be covered.
Cascade type connection
Star type connection
Specifications
■Input/Output
type: Wired-type, BNC cable connection
Line Impedance: 220 ohm
Communication distance: Max. 2 km when using internal power supply
Adjust ability: Headphone volume level, Side tone volume level
Input/Output Connector: LINE 2 x BNC: Line input and output/HEADSET 1x XLR 4-pin: for Headset DL-500 or DL-550/TALLY 1x 3.5mm Mini-jack : Tally signal output
■Power Supply
DC Power Supply: (internal) DC 3 V 2 x AA batteries/(external) supplied from FD-900S via the BNC cable
DC Power Consumption: Approx. 0.03 W
■General
Operating Temperature: 0 °C to 40 °C
Storage Temperature: -20 °C to 60 °C
Dimensions: Approx. 86 x 38 x 77 mm(excluding protrusions)
Weight: Approx. 270 g(main body only)
Apperance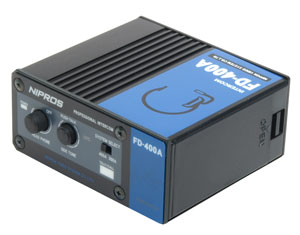 FD-400A/S model with supplied DL-400 open type headset.
Handy size with simple operation panel.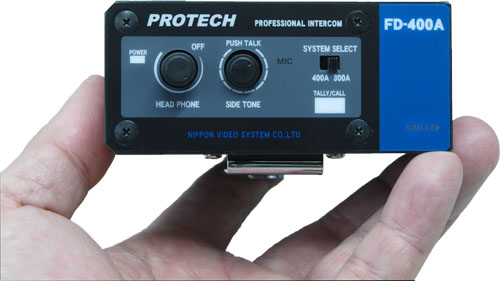 Tally output connection to TA-10A Tally unit.