HD-SDI compact live switcher
Simple operation and High resolution switching is possible.
Overlap, direct cut, and wipe are possible.
In direct cut, it can switch video image without being disturbed.
12 V DC/AC Operation.
It is suitable for video filming outdoors like concerts or events and the like.
Compact body, 6 inputs, Input channnel through-out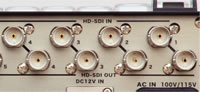 HD-SDI input x 5, title input x 1.
It can be connected total 6 cameras or VTR if the title is not used.
Distributer for monitor is unnecessary because the all channels can through-out.
Accordingly the cable wiring is simple. The wiring around the switcher has drastically reduced.
Minimizing operation, equipment, and the cable have enabled setting in a short time.
It is possible to select ON/OFF of flame synchronizer.
Direct cut is possible by the flame synchronizer.
It can select video images without being disturbed.
It is also possible to externally synchronize and to operate system construction by synch generator to avoid delay of lip synch by the flame synchronizer.
It is possible to select ON/OFF of flame synchronizer.
Auto take mode which enables 1 cameraman to operate 2 cameras.
It can auto take using separately sold pen-shaped auto take switch AR-53, PROTECH zoom remote controller AS-520, and zoom remote controllers of lens makers and so on.
It enables 1 cameraman to operate 2 cameras to switch best-shot to main line of one's own will.
With RED Tally and GREEN Tally
It equips RED Tally out and GREEN Tally out which informs next selected camera.(When using GREEN Tally, it will be required separately sold viewfinder HDF-700 and Tally unit TU-600.)
It can realize functions like that of a large studio in compact system in combination with optic conversion system series.
The camera rehearsal will be drastically reduced because of this function.
Large lever adopting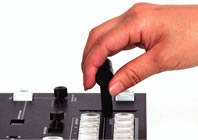 It can be said that a switching lever which switch videos smoothly is the heart of the video switcher.
When making superb overlap scene manually, a sense of the video creator must be conveyed accurately.
VSE-500HD is particular about operation feeling of the lever.
Monitor preview function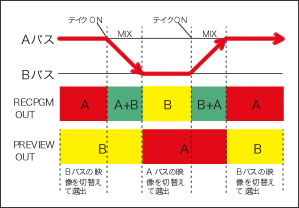 We had to carry monitors in the filming site, for example, 3 monitors for 3 cameras filming, 5 monitors for 5 cameras filming, to decide which camera video image to use next.
VSE-500HD enables video monitoring of multi-cameras filming without special devices, with only 2 monitors.
Cable equalizer circuit
It correct weaken signal by cable equalizer circuit.
About 100 m of cables are extendable in 5CFB.
Corrected signals can be through-out.
13 wipe patterns
There are 13 wipe patterns.
They are round wipe, square wipe, and heart shaped wipe.
It is possible to select ON/OFF and to set the width of the border.
The background can be set to video image or matt colour.
Strong, slim, lightweight design
It is developed with the assumption that it will be used under various conditions, such as severe circumstances, by the professional.
Adopting metal chassis for the body.
It realizes strong, slim, and lightweight body of about 1.4kg.
Enable title input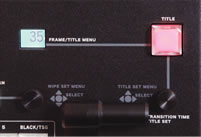 タイトル信号をキーで抜くことができます。タイトルはPCからの入力だけでなく、紙にプリントアウトした文字をカメラで撮影し、その映像をキーで抜いて簡単に入力できます。
It is possible to select ON/OFF of the border.
It has a variety of options.
HD liquid crystal monitor with LCD panel which is high brightness and high contrast, can extend to dual/triple/quad as options.
It enables all-in-one recording with rack mounting metal fitting HS-RA80 and being fixed to carrying case SC-550HD.
Specifications
Appearance
■Operation side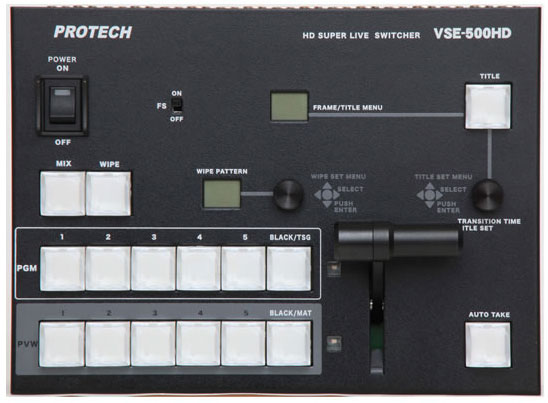 ■Connector side