Individual 4 CH. Analog Audio Signal can be embedded!
4-channel Analog Audio signals can be inserted ont the embedded audio of SDI signal individually.
From 0 to 3 frames delay can be adjusted in each channel.
Large audio bar meter for each channel.
Audio insertion channel position of SDI can be selected. (4 groups divided; ch.1 to 4, ch.5 to 8, ch.9 to 12 and ch.13 to 16)
Each channel has built-in hyper limiter to prevent distorted audio recording.
Microphone/Line input level and phantom +48V can be selected by the slide selector.
Time code of the input HD/SD-SDI signal can be detected and output from TC output.
Specifications
■Video Input/Output
HD-SDI IN connector: 1 x BNC
HD-SDI OUT connector: 2 x BNC
T/C OUT connector: 1 x BNC
SDI FORMAT LED: 4 x LED 3G/HD/SD/NO SYNC
SDI STATUS LED: 2 x LED LOCKED/ERROR
■Audio Input/Output
IN 1 to 4 connector: 4 x XLR 3S 4 CH
DELAY 0/+1/+2/+3 switch: 4(1 each CH) 0/+1/+2/+3 frames
AUDIO GROUP switch: Select CH embedded in CH 1 to 4/CH 5 to 8/CH 9 to 12/CH 13 to 16
INPUT IN 1 to 4 switch: 4(1 each CH) (LINE)+4 dB/-20 dB/(Microphone) -60 dB/P48
LIMITER 1 to 4 switch: 4(1 each CH) Hyper Limiter ON/OFF
GAIN 1 to 4 control: 4(1 each CH)
LEVEL METER: 4(1 each CH) Peak Meter, indicates by 10 steps
OVER 1 to 4 LED: 4(1 each CH) Red LED
AUDIO MONITOR switch: Select monitor CH
HP VOL control: Monitor audio volume level control
(Headphone Jack): 1 x 3.5 mm dia. stereo mini jack(monaural)
■Power supply
DC IN 12 V connector: 1 x XLR 4-pin 12 V DC( for AC Adaptor)/1 x V-shoe DC input for Li-ion battery pack
(DC OUT) connector: 1 x V-shoe mount DC output for camera
(P48): for each CH Supplies +48V DC when INPUT IN switch is at P48 position.
DC Power: 12 V DC (5 to 25 V DC) approx. 6 W
■General
Dimensions(W x H x D): 92 x 138 x 80 mm
Weight: approx. 830 g
Operating Temperature: 0°C to 40°C
Storage Temperature: -20°C to 60°C
■Accessories
Operating instructions

Apperance
■Front

---
■Back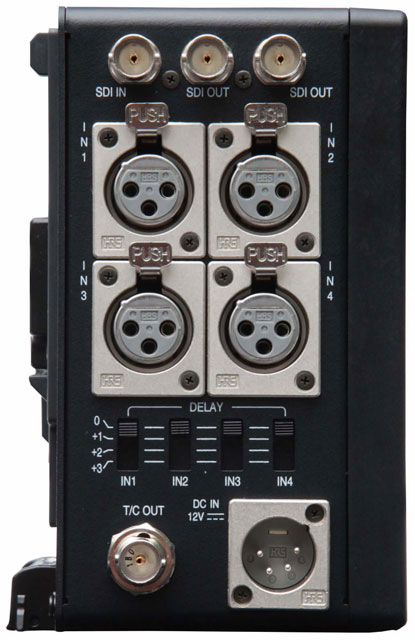 ---
■Front left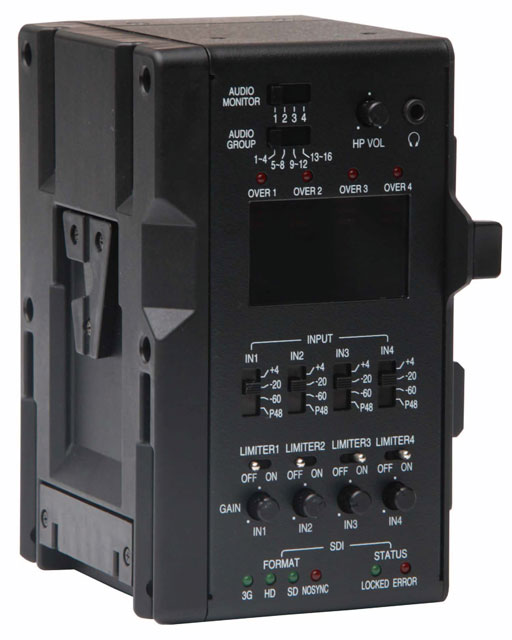 ---
■Back left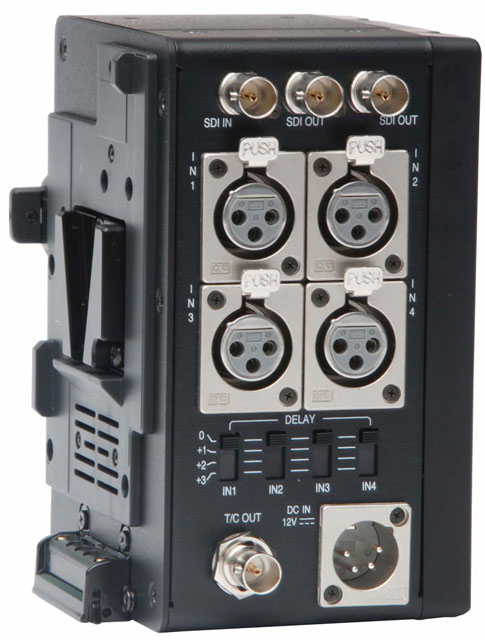 ---