NS Optic Conversion Camera System
camera recorder signals of shoulder types and handy types transmittered through optic fiber cable.
One optic fiber cable enables long-distance transmission of video signal, microphone sound, AES/EBU, return signal, tally signal, intercom, camera remote controller,genlock signal, and LAN needed for system camera (studio). (some models are excluded such as LIGHT type etc.)
Optic Conversion Camera System NS series can be select from 3 types, such as NEUTRIK optic connector type, TAJIMI optic connector type, and LEMO optic connector type.
ENG camera can be used for studio and field recording and event multi recording.
NSR series for 4K signal by 12G-SDI
NEW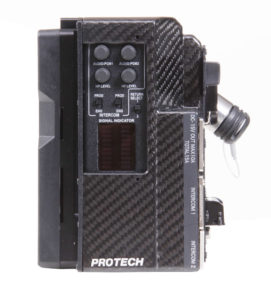 NSR-X412 can transmit by 4 x 12G/6G/3G/HD-SDI, 2 x RET6G/3G/analog, 2 x Intercom, LAN, and can output 170W power supply.(*)
Carbon casing with lightweight and high hardness (Option).
Besides, NSR-X4, which can transmit by 3G/HD-SDI, and NSR-X1, which can transmit by HD-SDI, RET3G/analog, are newly released.
*The value is the maximum instantaneous output, and not support continuous output. Moreover, the continuous output value varies depending on the using condition.
Patented optical transmission technique, transmitting SDI/analog image without input switching, on this. No switching is more helpful!
Digital channnel can connect almost all formats of SD-SDI/HD-SDI/3G-SDI, composite, HD-Y, and SYNC like being connected with BNC cable. (Some models are excluded.)
Transmission (PAT) is possible without any settings in switching and the like.
SD-SDI/HD-SDI/3G-SDI support LevelA/B.
It conforms to the following transmission standard.
SMPTE 125M: NTSC(480i 59.94)
SMPTE 292M: 1080i 50/59.94/60, 1080p 23.98/24/25/29.97/30
SMPTE 296M: 720p 50/59.94/60
SMPTE 424M: 1080p 59.94/60(3G)
PAL(625i 50)
It can transmit without missing data, with ANSI area and embedded audio being remained as they are. (There are some models with SDI dedicated line and terminal.)
The power feeding capability of retrifitting power supply is more than 120W.
The main body has power monitor.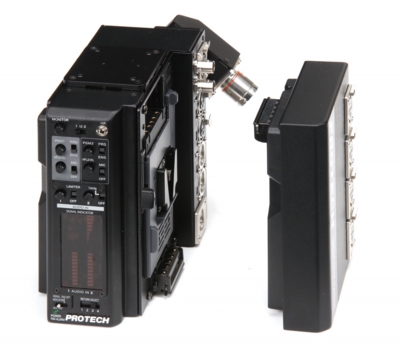 The power feeding capability of NS-X1 NEUTRIK type is 75W in 100 m, 45W in 250 m, and of LEMO / TAJIMI connector type is 120W in more than 1000 m. Up to 2400 m (with about 50W).
*The distance may be different depending on the cable.
Patented optic transmission system for confortable long-distance transmission
Transmitters which have "D" at the end of product's name, for example, NSX-1GTSD, NSX-4GTSD, and NS-JX40GTSD, can be connected to another one.
A single line cable can transmit signals of 2 transmitters.
So far, for example, it needed total 1500m of cable to broadcast golf if it was 500m to the first camera point and 1000m to the second camera point. However, it can be needed total 1000m of cable with PROTECH Optic Conversion system. It will remarkably reduce the cost.
All signals can transmit either synchronous or asynchronous.
All video signals can transmit asynchronously.
It can transmit mixed signals of 4K and 2K.
Signals of disparate formats can be transmitted with no probrem.
It will useful in reporting collaboratively with other stations.
It is possible to transmit different synchronous signals from base station.
4 types of power supply method selectable connecting method in accordance with the situation
In feeding to the camera adapter from base station, it can be used NEUTRIK/LEMO/TAJIMI camera cables, DC12V external input, battery, or power feeding unit which operate with optic cable only (about 10 to 20km can be possible) between camera adapter and base unit.
Precise real-time transmission.
Safety transmission without a bug when power interruption occurs.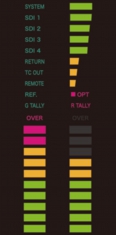 Power switch is removed except base station.
PROTECH Optic Conversion System as well as LS series and PS series are OK to switch off the base station abruptly.
It prevents accidents arised from switching off by mistake.
Power ON/OFF operation can be performed only on the base station.
(Please power ON/OFF cameras according to the manuals.)
In addition, it displays if it has plenty of power energy in base station side.
Signal monitor is standardly equipped except for NS LIGHT to know accurately which signal has transmitted.
A single fiber can transmit a large amount of data.
A single fiber cable can transmit signals bidirectionally in large stadium, ski ground, and arena using single fiber conversion box NS-BSCT and NS-CSCT TAJIMI type.
It can transmit for a maximum 4K x 2.
Optic Conversion Camera System with high reliability and great achievement
It is daily used in fields, for example, LS/PS for drama, outside broadcast, and studio filming, 4KLS system for 4K live filming etc.
It is designed to work the function if adaptors being connected have same functions, by making signal processing of NS series in common.
Transmission confortably in every camera
It supports almost all the HD cameras and 4K cameras.
Since it is not an exclusive transmission device, it supports any type of camera. (Some models are excluded.)
Confortable system with patented view finder
It can film fast-moving subject with ULTRA O-LED®
ULTRA O-LED view finder with high response speed (almost 0 delay) has invented to satisfy high grade demands.
It can return switching with zoom remote controller even without CCU camera control unit, as well as 5 inch high-performance view finder and 7 inch view finder (Patent obtained).
P IN P is possible in O-LED view finder / 5 inch view finder.
Return image can be always displayed simultaneously. It can be displayed without disturbing even it is super-high magnifying video filming.
System construction with PROTECH products will lead to improvement in box type lens adapter, view finder, and solve return switching problems.
Adaptor HDS-1500RT which attaches camera to box type lens is fully loaded with functions needed in fields, such as return function (patent obtained), iris incorporating (patent obtained), return switching in view finder (patent obtained), return switching in optic camera (patent obtained), connecting handset to camera adaptor (handset) (patent obtained),and transmitting SDI and composite without switching (patent obtained) etc.
Optic Conversion Camera System "NS-C700" for EOS C700 / EOS C700 GS PL.
It can film 4K imaging with widw dynamic range.
NEW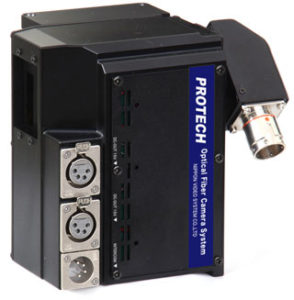 Direct docking with high performance camera EOS C700
It is small-sized and lightweight, and useful for TV studio, drama, and movie filming.
Usable in combination with base station NS-X40.
3G-SDIx4 realized 4K transmission wirh uncompressed.
Return signal, REMOTE signal, Tally output, Intercom, DC-OUT 2output.
Successful in professional field.
Capable of system construction in accordance with the purpose and the style.
Our design team who know the field well has been developing.
Apperance
NS-X1
■Front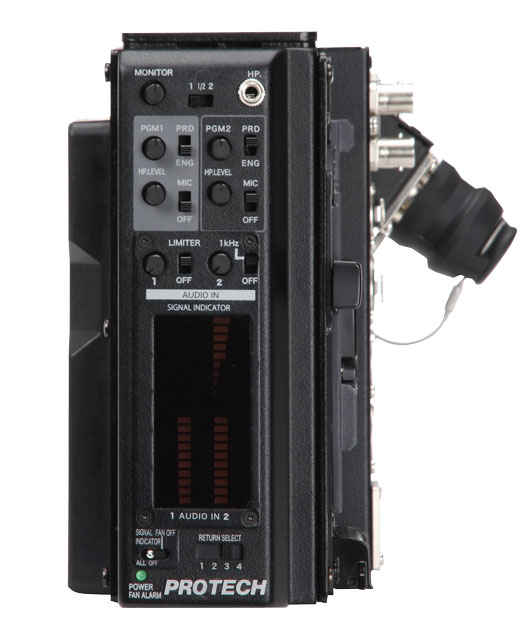 ■Back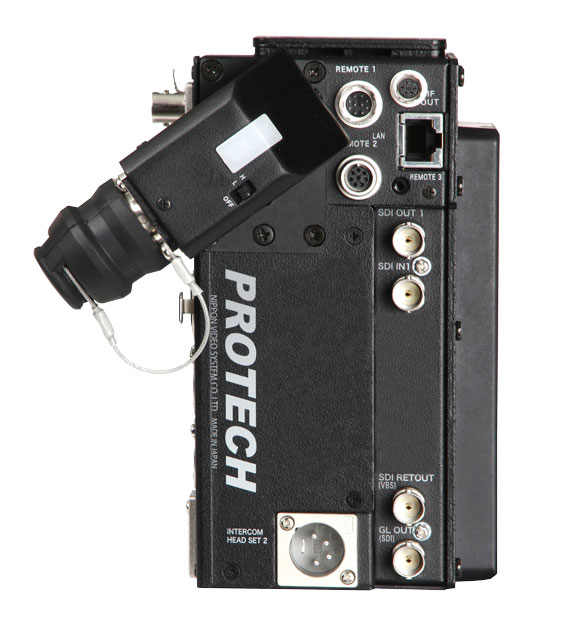 NS-X10
■Front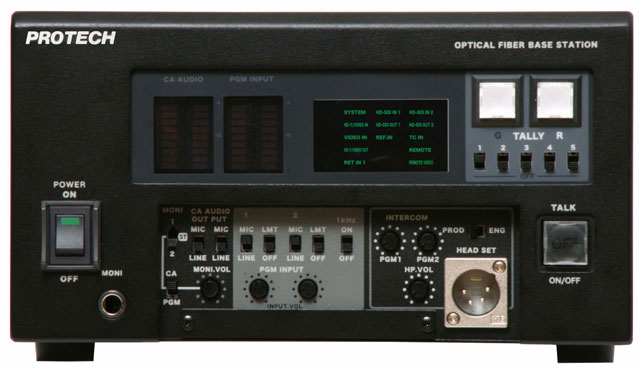 ■Back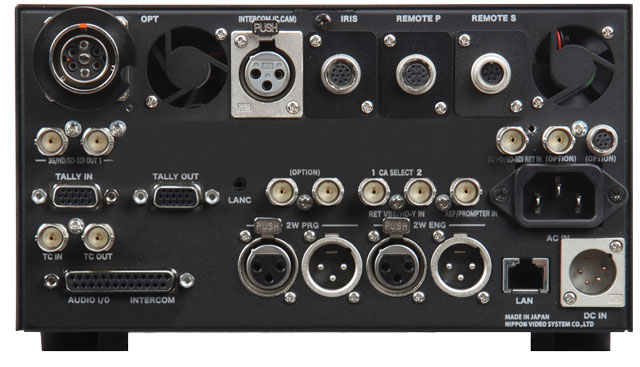 NS-X4
■Front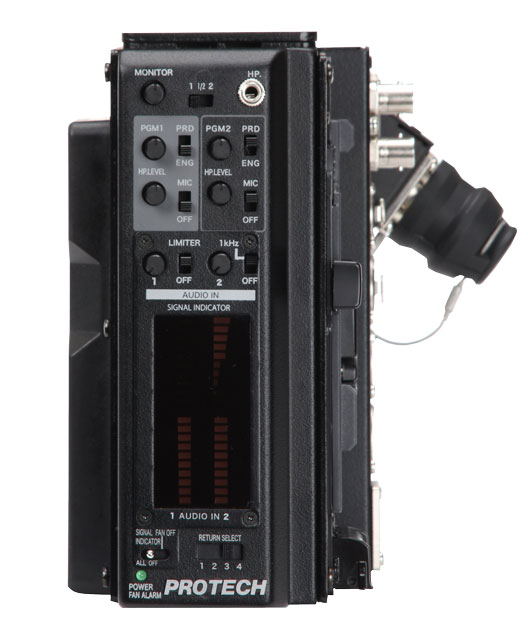 ■Back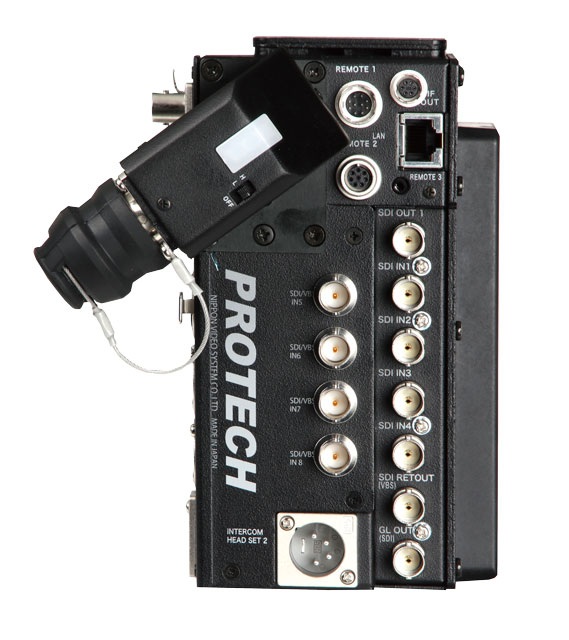 ■Side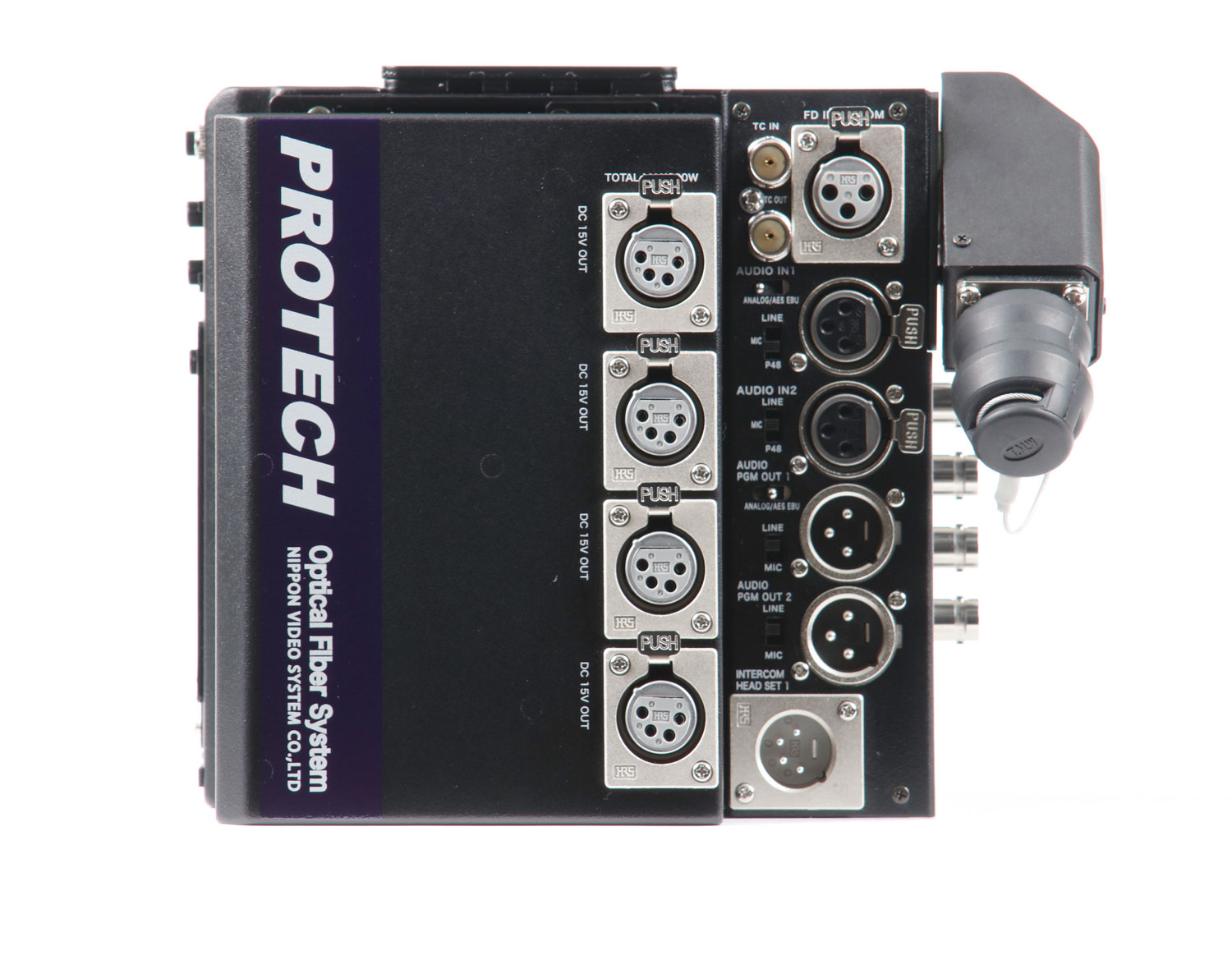 NS-X40
■Top Front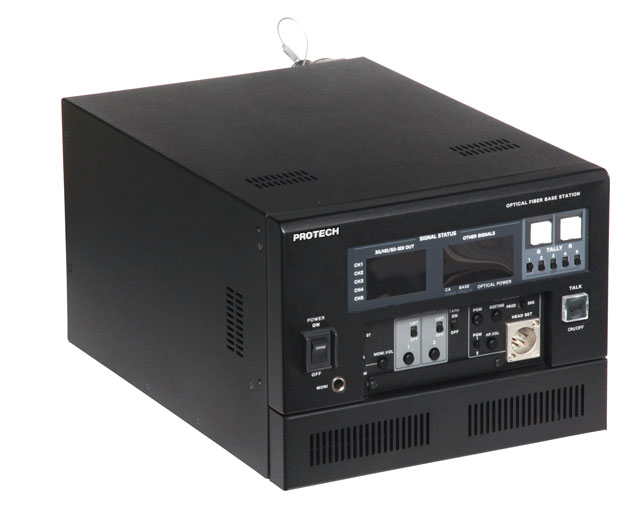 ■Back